April 26th, 2012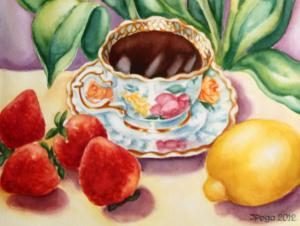 I hope you will be able to make time for the Oshawa Art Association Spring Studio Tour 2012 if you happen to be somewhere in Ajax, Whitby, Oshawa (Durham, Ontario) around next weekend.

Spring Studio Tour takes place on May 5th and 6th between 10am and 4 pm. Please have a look at brochure, many artist studios are participating: http://www.oshawaartassociation.com/SpringStudioTour.htm

You will find me next to the number 3.
I have no doubt that everyone will enjoy this art tour, there are lots of interesting things to look at and possibly buy in order to use as a gift for the upcoming Motherís Day. What can be more valuable as the joy of giving?

Besides, flowers wither and cake gets eaten up, but a nice painting will always remind the gift receiver of you, your relationship or friendship. Art is a very delicate thing, sometimes hard to describe, and it always makes sense to have a look with your own eyes at new creations of your local artists. Artists who I know, donít actually complain too much, however, times are tough, and it is so easy to make somebodyís day when buying some inexpensive painting. So, think about it, and support your local artists, because these are folks who really need that: they will appreciate your interest, and small investment in art can go long ways.
Such tour is absolutely free, and many places will have more than exhibited paintings. I will offer advice on art materials, explain differences between classes and workshops, introduce new class schedule, new types of classes, give watercolour demonstration and challenge you to try watercolour washes or drawing.

Last yearís tour was well attended, and I am very sure, benefits were mutual.

June 15th, 2011
Visitors can enjoy Oshawa Art Association 43rd Annual Juried Art Show at The Robert McLaughlin Gallery 72 Queen Street, Oshawa, Ontario.
I'm proud that both of my artworks were accepted into this show.
I am participating with my recently painted garden scene "Take a Rest" and still life called "Kitchen Symphony" which I also painted a couple of weeks ago.
Both are full sheet watercolour paintings and depict objects which I always like implementing in my paintings: flowers, plants, fruits, vegetables.
I used to paint mostly still lives, and I think I will return to them again.
Since I feel comfortable with painting things that surround me, still life is a good option to use everything what grows in my garden and backyard.
I think everybody would have a great time attending this show because so many excellent artists will be showing their work.
The opening reception is tomorrow, Thursday, June 16th at 7:00 pm.
See you there!

May 10th, 2011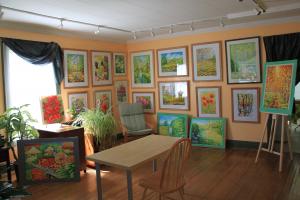 Please drop in and see new art created by watercolour and acrylic artist Inese Poga. You might be surprised how much this small gallery offers.
Artist is also interested in providing any client with commissioned art so that the client gets exactly what he likes and wants in colours which he prefers and which match his home design.
Artist has been painting for about 30 years.
New summer classes will take place in the gallery classroom and outdoors in the backyard from May 17.
Children, teens and adults welcome.
If you apply for the entire course, the cost of one class is 25.00 CAD.
If you would like to take just a separate class, the cost is 30.00 CAD.
Discounts available for enrolling more than one child.
Art portfolio preparation is offered to students who are going to enroll in an art establishment.
Please register via phone, e-mail or attending the gallery personally.
126 Mary Street East, Whitby, Ontario (free parking at 118 Mary Street, the next lot West)
905-493-3143
inesepogaart@gmail.com