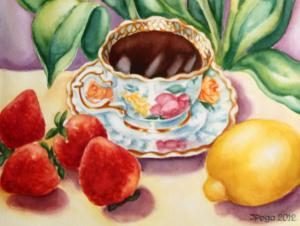 I hope you will be able to make time for the Oshawa Art Association Spring Studio Tour 2012 if you happen to be somewhere in Ajax, Whitby, Oshawa (Durham, Ontario) around next weekend.

Spring Studio Tour takes place on May 5th and 6th between 10am and 4 pm. Please have a look at brochure, many artist studios are participating: http://www.oshawaartassociation.com/SpringStudioTour.htm

You will find me next to the number 3.
I have no doubt that everyone will enjoy this art tour, there are lots of interesting things to look at and possibly buy in order to use as a gift for the upcoming Motherís Day. What can be more valuable as the joy of giving?

Besides, flowers wither and cake gets eaten up, but a nice painting will always remind the gift receiver of you, your relationship or friendship. Art is a very delicate thing, sometimes hard to describe, and it always makes sense to have a look with your own eyes at new creations of your local artists. Artists who I know, donít actually complain too much, however, times are tough, and it is so easy to make somebodyís day when buying some inexpensive painting. So, think about it, and support your local artists, because these are folks who really need that: they will appreciate your interest, and small investment in art can go long ways.
Such tour is absolutely free, and many places will have more than exhibited paintings. I will offer advice on art materials, explain differences between classes and workshops, introduce new class schedule, new types of classes, give watercolour demonstration and challenge you to try watercolour washes or drawing.

Last yearís tour was well attended, and I am very sure, benefits were mutual.